Woodstock Property Management
Peace of Mind for your Investment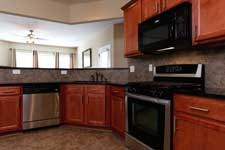 Our experience, knowledgeable team, and creative thinking allows us to offer you the best possible service with a personal touch. From Single Family Homes, Townhomes and Condos - every home we manage is cared for as if it were one of our own. We look forward to talking with you soon to create a Property Management solution that meets your needs.
Full Service and Property Management
First Step
+
We will provide you with a Market Rental Analysis for your area and suggest the best monthly rental amount that will quickly attract qualified prospective tenants to lease your home.
We will advise and assist you on preparing your home to be photographed, marketed and ready for the new Tenant.
Marketing
+
As soon as the home is ready, we hire a professional photographer to create top quality pictures of your home to use in all advertising.
Your home is then advertised in FMLS, our Website and the many online sites these feed to.
We will place a sign in the yard (as long as this is permitted by the HOA) and a Supra Lockbox on or by the front door.
Only license Real Estate Agents are permitted to enter and show the property.
We will monitor activity levels and recommend any adjustments if needed.
Approving your New Tenant
+
Tenants will complete an Online Application
All applicants are screened for:

Credit
National Criminal Background Check
National Sex Offender Check
Rental History/Mortgage History
Employment and Income Verification

Our experience with thoroughly reviewing the details of the application report has benefited us with no evictions in the last several years.
Move In
+
We will meet the Tenant at the home to make sure there are no questions about the operation of any systems of the home.
We will review the Lease documents.
A full Move-In Inspection is completed.
The Security Deposit is collected
Keys are turned over to the new Tenant.
Managing Money
+
All Rental Account funds are held in Escrow Accounts.
At your fingertips, you can access the Owner Portal to see all Documents, Accounting Details, Monthly Reports, Invoices, and more 24/7.
Owner Draw funds are sent electronically or mailed (per your preference).
1099's and Year End Expense Summaries are sent out for ease in handling Tax prep.
Managing Tenants
+
Create all Lease Documents and procure signatures
Handle all Rent collection
Handle all Tenant communications
Assess and collect Late Fees or NSF Fees if necessary
Enforce the Lease Terms
90 days before the end of the Lease term we open communication with the Tenant regarding renewal or move.
At the time of Move-Out, a full Move-Out Inspection is completed.
Managing Maintenance
+
We handle all maintenance/repair requests from the Tenant via pre-approved Vendors
Each property is fully inspected yearly. Each pre-approved Vendor that goes to the home also completes a visual sweep of the home and alerts us if any items of concern are noted.
In the event of major damage, we will work with your insurance company to handle recovery and repair.
Residential Real Estate Investments
+
Every Real Estate Investment offers financial benefits ranging from Cash Flow to Tax Savings. Spalding Brokers, LLC is here to help you identify, purchase, manage, and grow your Investment Portfolio to reach your goals. Put our experience to work for you.
Woodstock Area Information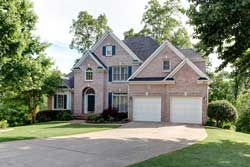 Although the first settlers called their new home Woodstock, the community did not become an official city until 1897. Postal service records show that a postmaster was in Woodstock beginning in 1833. Historic documents show the establishment of churches in the area in the 1830s as migrations of pioneers came to the community to farm the land, producing for most of their needs. Early settlements sprang up around waterways, and as the railroad and train depot became a reality in 1879, the town centered around these landmarks.
The Woodstock Depot was built in 1912 by the Louisville & Nashville Railroad as the town grew. The line transported cotton, rope, and other agricultural products, as well as passengers. Passenger service ended in 1949.
Historic homes built a century ago line Main Street. Some are home to descendants of the original owners, while others have been renovated for thriving businesses. Source From Wikipedia
Inquire About Our Services
Areas We Service